Dubai is a weird place. I think we can safely qualify this statement having been there twice now, and got to double check if it's just us. It isn't.
As we flew in, the aerial perspective of Dubai is of a glittering jewel, nestled in the arms of the all-knowing desert…etc etc. What possessed 13 million people from around the world to hop over and set up shop in the middle of the desert is pretty mindblowing, considering you can barely walk outside for half the year because it's so hot - but they are here, living the tax-free dream… It's the fastest growing population in the world with three quarters made up of foreigners, but surprisingly only 6% of Dubai's income comes from oil. This is also the place of the worlds tallest building(the Burj Dubai), plus a perfect replica of the New York's Chrysler building, and the ambitious 'World' Concept( a giant man-made 'world' comprising of hundreds of tiny islands you can purchase that is visible from space)…Geography lesson over, but the magnitude of development is incredible.
Come on, it's not like they are ever going to run out of sand.
Breezing through customs, we cruised to our hotel, which is where all the action happens in Dubai. We were booked to play to shows at the Barasti, an awesome club right on the beach outside our hotel. Most of the bars and clubs are situated in hotels here due to the stringent laws, and this can lead to an interesting mix of people at the breakfast buffet, with Dom making friends with one nice old Gran on the second day, until she found out that he was the one responsible for that deafening noise last night.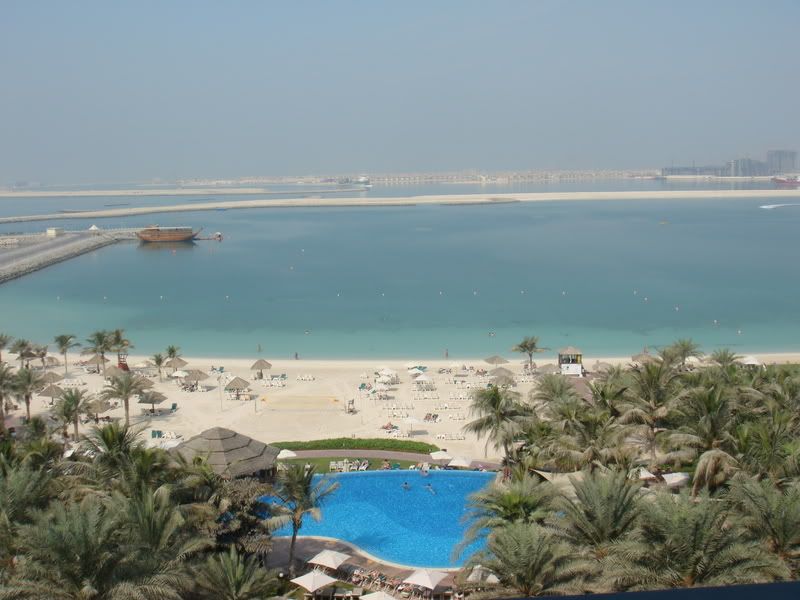 The view from Casa Goldfish...that's the stage on the beach, front and center
Seriously, our set up was cool. We had a sound system that would make a grown man cry, never mind Granny. With a couple of thousand people turning up both nights we were there, it was awesome to see how the word had spread since last time, with the crowd singing along like angels…who had had a couple of drinks. We even had a crew come say hi who had watched us in Ibiza earlier this year, the world is getting smaller and smaller. Highlight of the trip was when some chick kept bugging us to play Timbaland,(do you see a CD player here anywhere??!) with Dave's reply over the mic: " We have a saying back in South Africa – Timbalands' se moer…" to a roar of laughter from the Saffa crowd.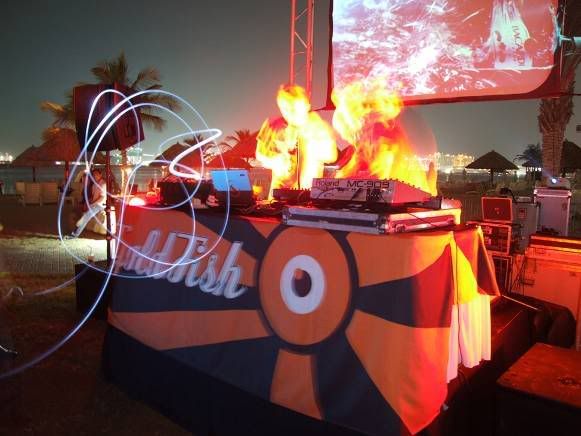 Goldfish are so hot right now
A huge shout out to everyone who pulled in, both gigs rocked out big time.
One night after dropping our gear off at the hotel after the gig, we caught the lift back down and walked down into the foyer to return to the mayhem on the beach outside and were stopped by two well-built gentlemen, who took one look at us and said:
"Sorry gentlemen, this club is only available to couples"
Remembering (just in time) this probably wasn't the place to joke that we might in fact be a 'couple', given UAE's stance on any non heterosexual affiliation, we explained that we might possibly be part of the reason for the mass of misbehaving people just outside, and that they should really let us back in. I suppose it didn't help that Dave had a beer in his hand. Oops. They are so uptight here.
Waking up freezing isn't what you expect in the desert until realising room service had switched the aircon on full blast the night night before and the hotel rooms were subzero…With the day off, it was time for a bit of exploration and a trip into the desert. It's a different kind of beauty out there. Stark and barren, a couple of camels every now and again to save you from the endlessness, and the bizarre row of street lamps we found in the middle of nowhere. And its bloody hot.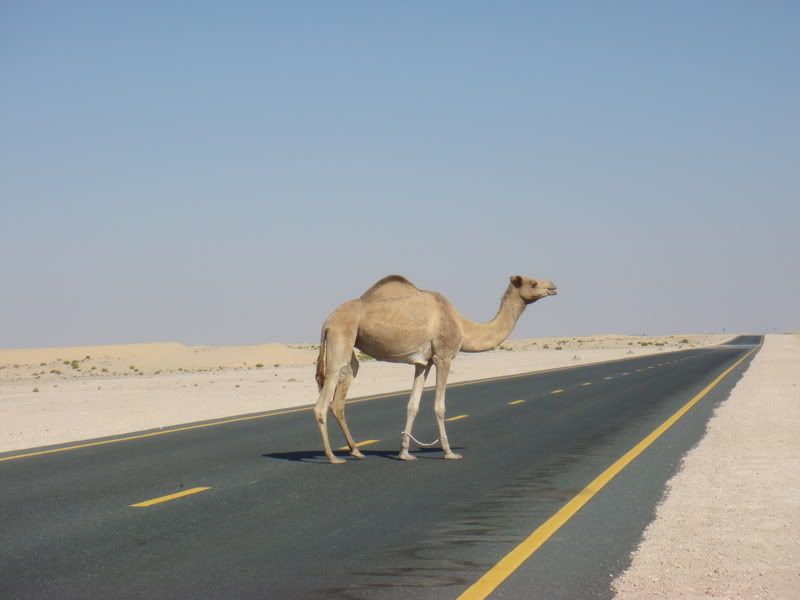 Alice had escaped from somewhere
Sadly we had to get back on the plane, and back to the studio... We truly had an amazing time in Dubai, and the support was phenomenal. We're looking forward to coming back!
Big thanks go to Ross Callow and Lucinda for showing us such a great time, Bacardi for making it possible, Nick Oberholzer for the live photos and for making us laugh... Martin from Radio One in Dubai, TV show The Spin with Suzie, Charl Chaka, everyone who pulled in for the gigs, and Emirates Airlines for delaying us for 27 hours and losing all our gear on the way back. We love you guys, seriously.
Next up: THE NEW ALBUM!